Quick News and Horses Currently Offered For Sale
BELCAM
Warmblood Stud &
Equestrian Centre
188 Armstrong Rd
Biddaddaba 4275
Queensland
Australia
Phone
+61(0)7 5543 0125
Mobile
Ulrich Klatte
0408 453 804
E-mail

Warmblood Stud, Horse Trainers & Agistment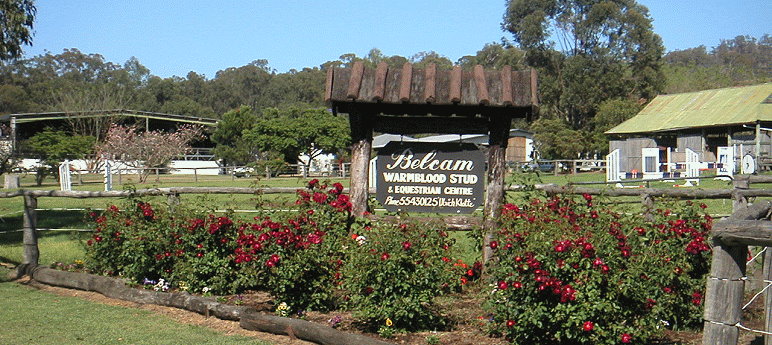 Champion Horses For Dressage, Showjumping & Eventing
Belcam has operated a successful warmblood breeding and horse training facility since the importation of it's first stallions in 1984. The continuous introduction of proven imported and local bloodlines has enabled Belcam to become a leading Australian warmblood stud.
Sires at stud include champions such as showjumpers Hector (Imp) [Calido(Hol), Granni(Han - by Grannus)] and Belcam Agassi [Benaloo Rose xx, Argentinus], eventer Belcam Caesar [Chantilly Pizzar xx, Contango II] and Cooperit (Imp) [Winett, Contender], the only Contender son in Australia.
Owner and renowned eventer, showjumper, accredited coach and horse trainer, Ulrich Klatte also offers five star agistment and talented horse and rider training.
"International and Australian breeders and riders benefit from the opportunity Belcam presents to access Europe's top bloodlines without the cost of importing. With the family stud in Oldenburg, Germany being one of the most successful warmblood studs in Europe, Belcam's breeding programme has prospered.
Each year Belcam offers a selection of their quality horses for auction and the stud continues to have a selection of superior breeding stock, youngsters and performance horses available to discerning buyers at all times. It is the ambition of Belcam to see their horses competing and breeding at the highest level for the satisfaction of all involved." (Ulrich Klatte)
Meanwhile, the Belcam progeny continue to prove themselves in competition.

Today is : December 6, 2023
Page last updated : June 15, 2016
Top of

page
Copyright | Disclaimer | Privacy
Copyright © belcam.com.au 2009